A Day in the Travel Life
---
Rock Climbing in Joshua Tree
---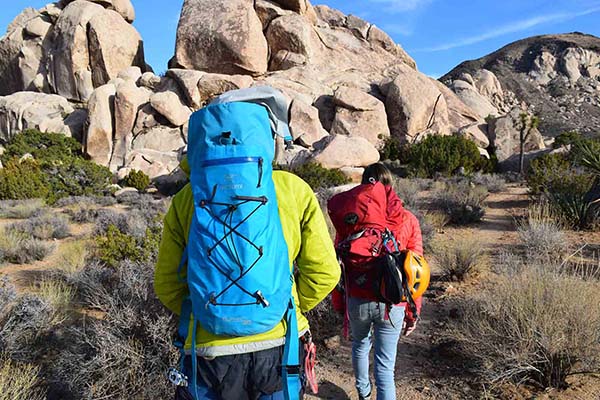 A Day in the Travel Life
---
Rock Climbing in Joshua Tree
---
---
---
---
by Monica Mo
It's crappy weather again in the San Francisco Bay, and a 3-day weekend, so a friend and I decide to ditch the winter rain and head south to the warm and sunny California desert.
We pack our gear and drive seven hours to Joshua Tree National Park, out-maneuvering aggressive 18-wheelers, and Driving Miss Daisy drivers hogging the fast lane on the I-5.
---
Road trip playlist: U2's The Joshua Tree album
---
---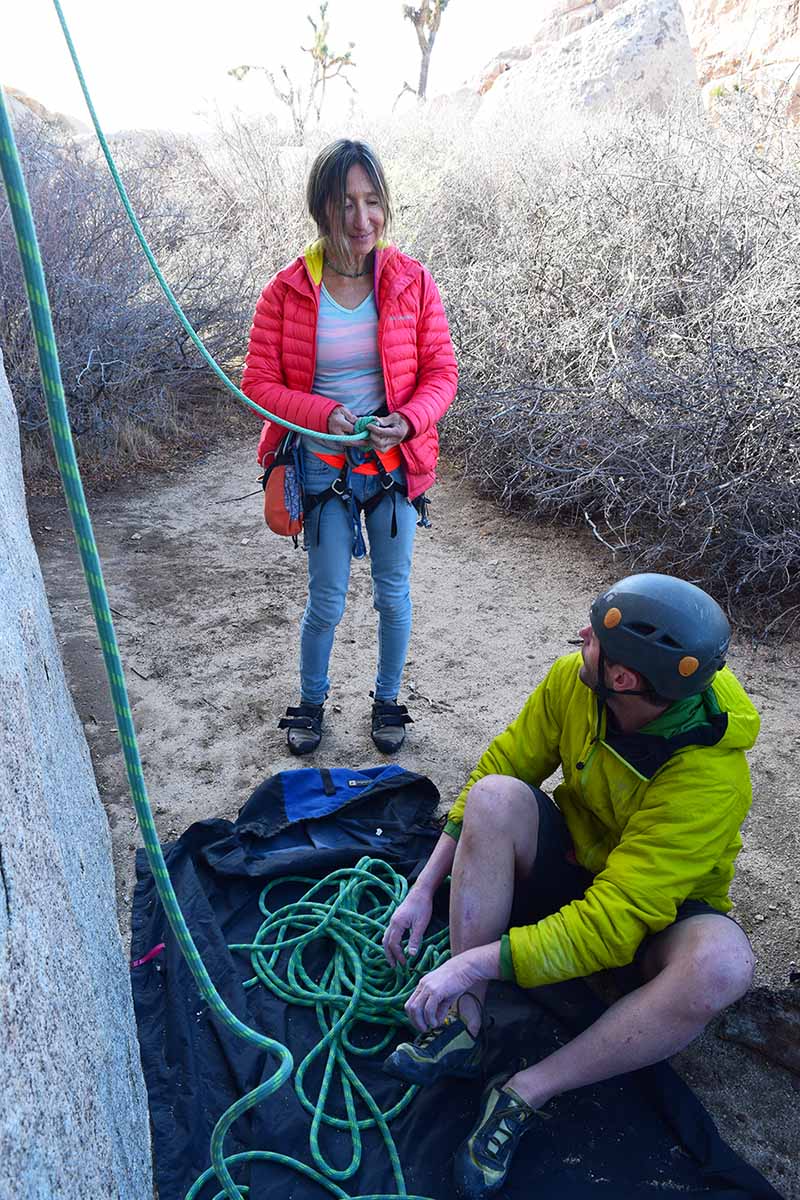 ---
We start the day by scaling Walk on the Wild Side on Ryan Mountain. It's a sporty, 250 foot (76 m) climb and 5.8 on the YDS (Yosemite Decimal System) rock climbing scale.
Generally, it's done in three pitches (three re-roping stations), but we do it in two with a 230 foot (70 m) rope. We top out at the ledge and make our way to the rap rings, rappelling a short distance, then down-climbing back to solid ground.
As climbers, we're perpetually unsatisfied; always on the hunt for the next challenge, the next thrill.
So, after resting up and eating a packed lunch, we make our way across the road to the Hall of Horrors, a fun assortment of rock formations and monoliths that isn't as scary as it sounds.
---
---
---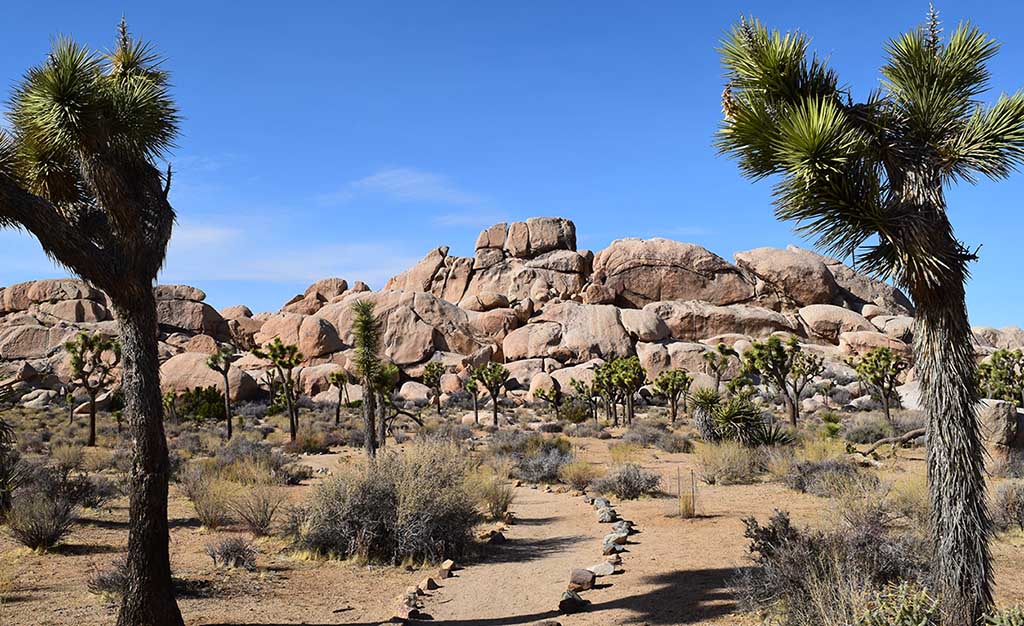 ---
---
---
As we round a fork in the trail, Lickety Splits catches our eye. It's 80 feet (24 m) and 5.7 on the YDS; and we decide it would make for a good post-lunch workout.
We each scale the east face of the monolith first.
---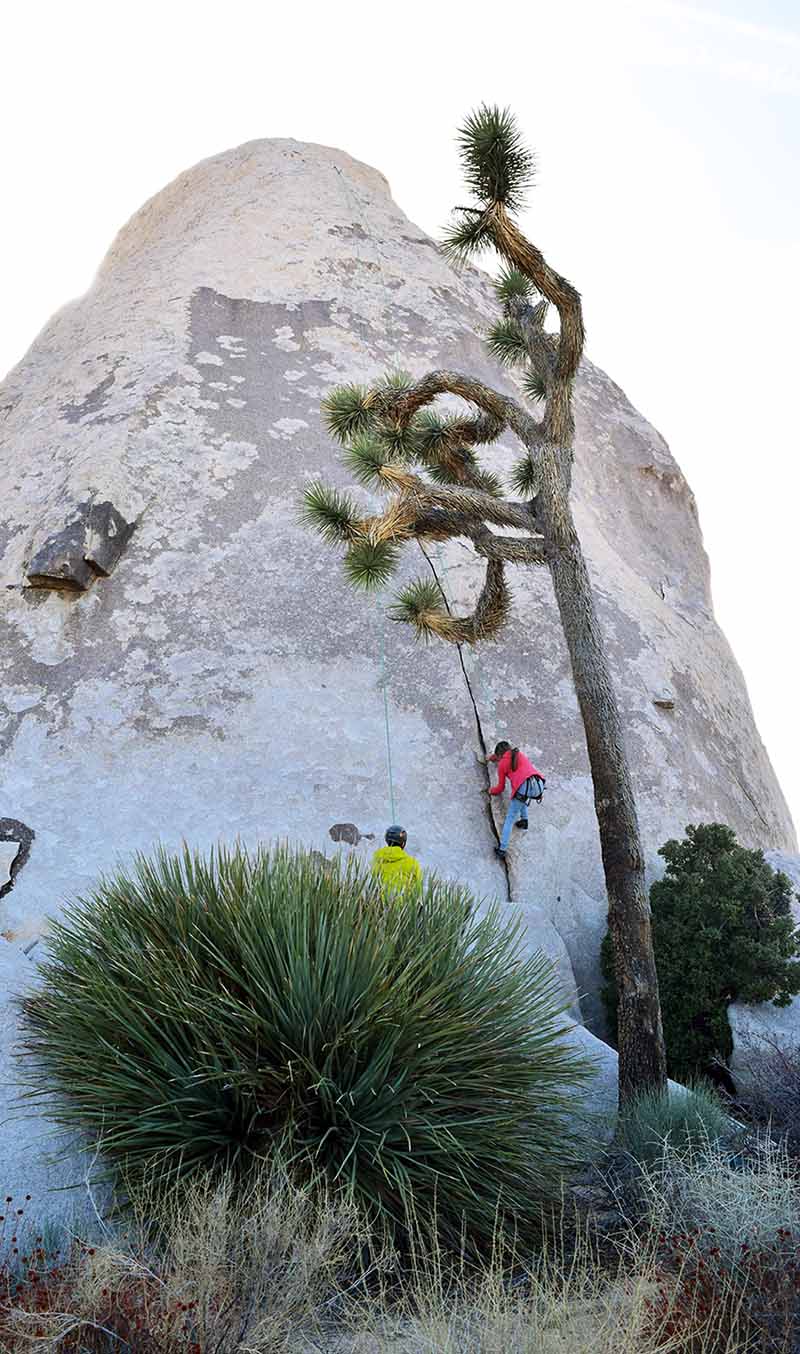 ---
Then switch to the north face, which is more of a challenge.
---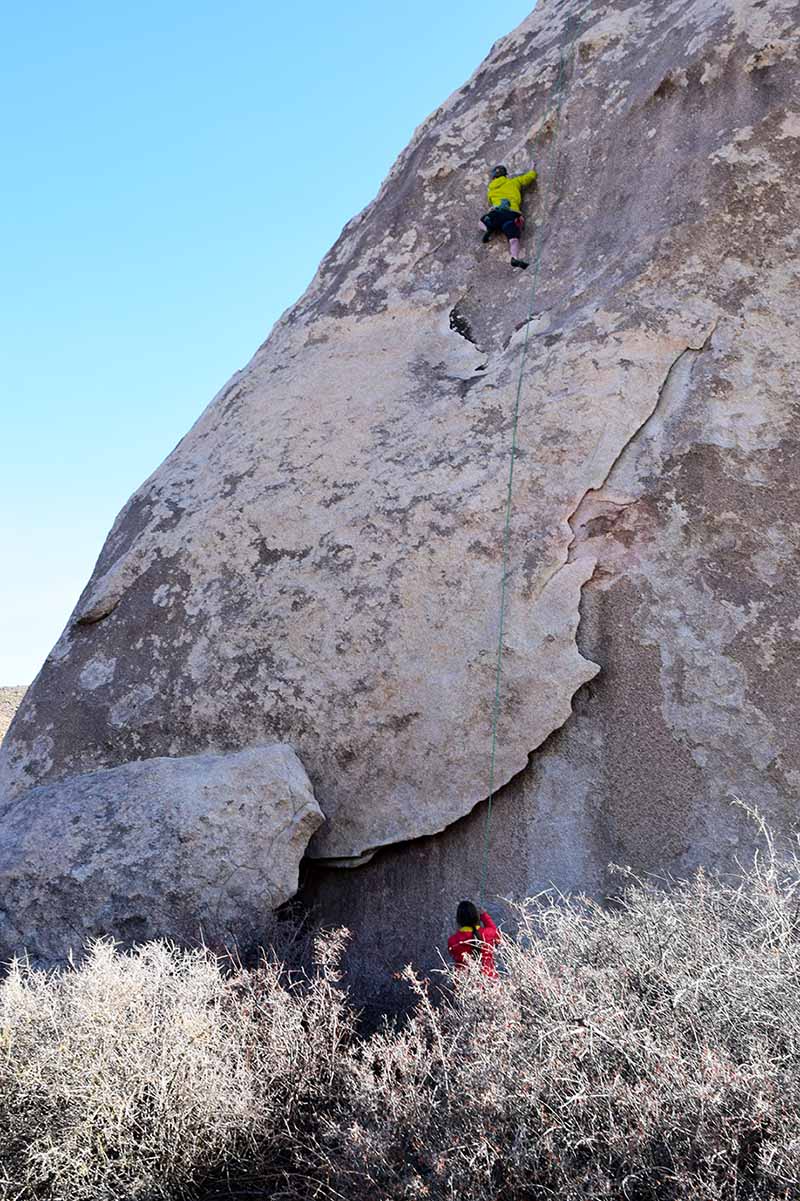 ---
Next, we move on to Dog Day Afternoon, a 5.10b on the YDS scale. We're not sure why it's named after the 1975 Al Pacino flick, but we're definitely digging the name.
My friend's more the daredevil than I. He always takes the lead in free climbing the rockface with just his fingers and toes, looping clamps and safety rope through small bolts that have been secured in rocky crags by climbers who have come before.
---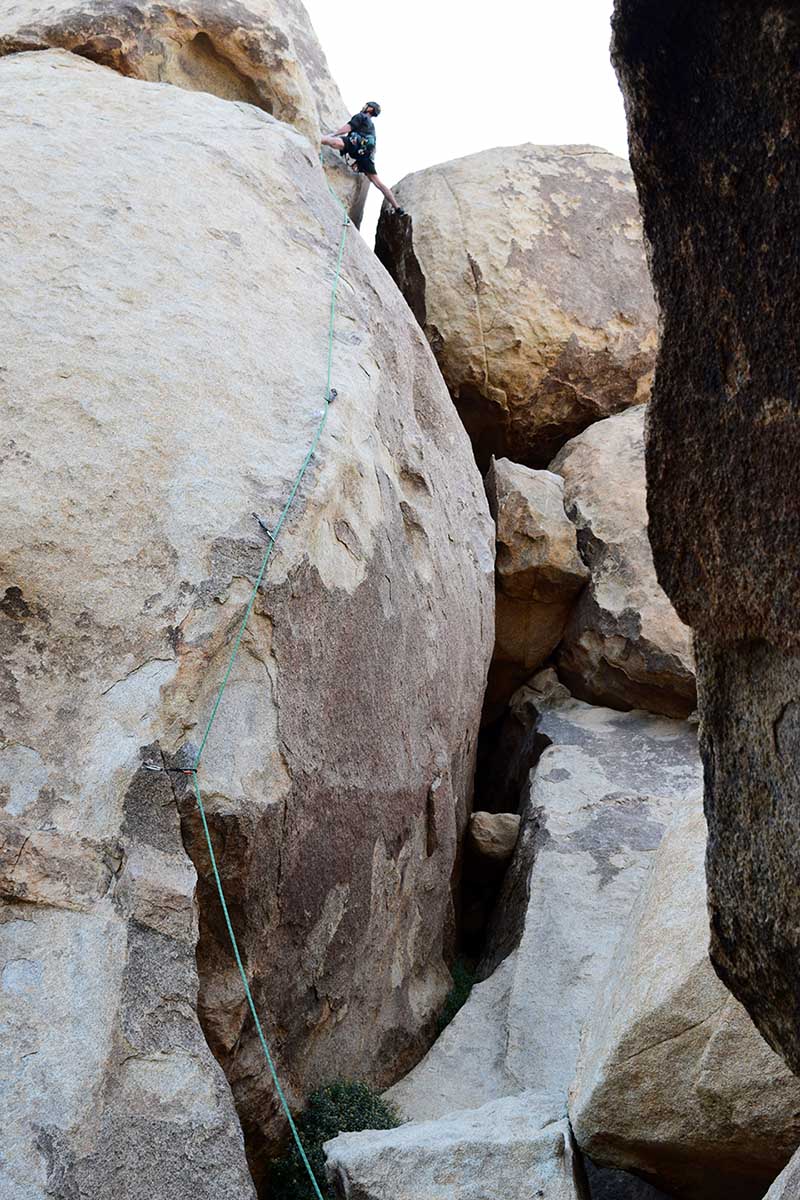 ---
When he reaches the top, he secures the line with an anchor, making it safe for me to climb up. Once he comes back down to the ground, I hook up to one end of the rope; my friend the other. 
He stands watch as I make my way up, feeding me rope or holding it taut when I need to lean back safely, to figure out my next move.
---
---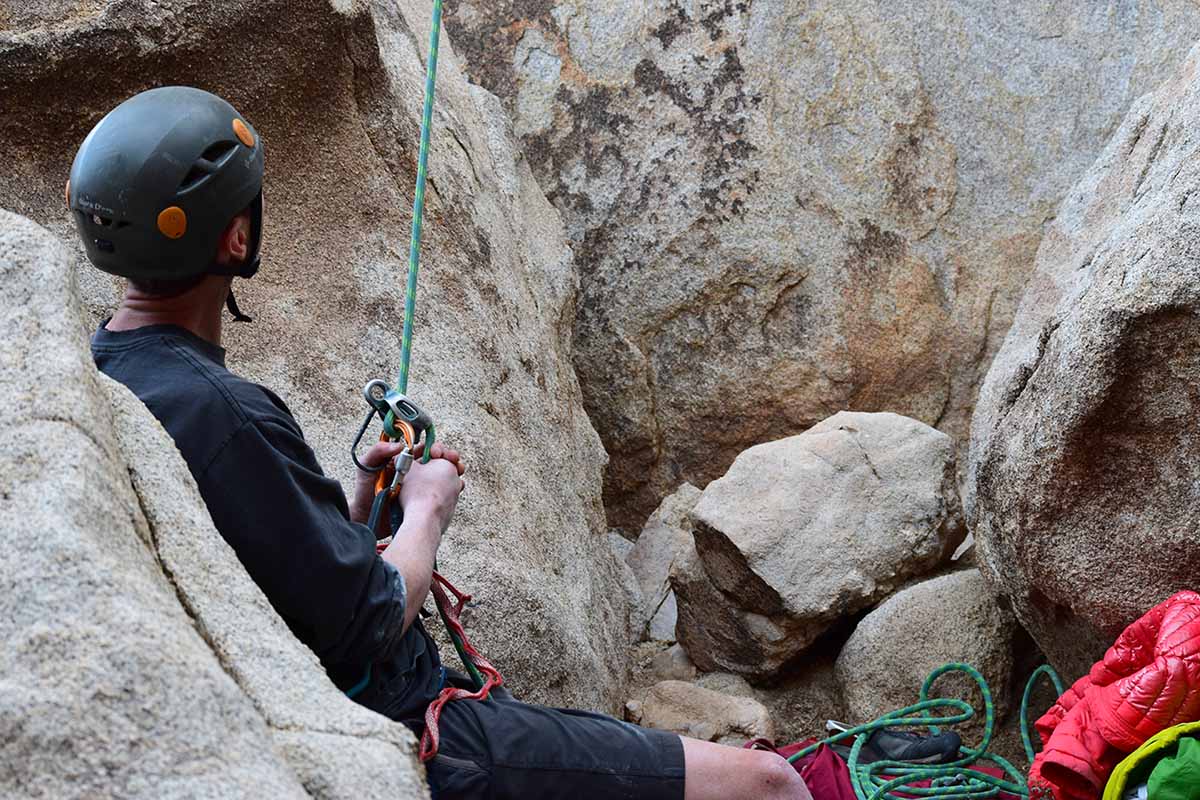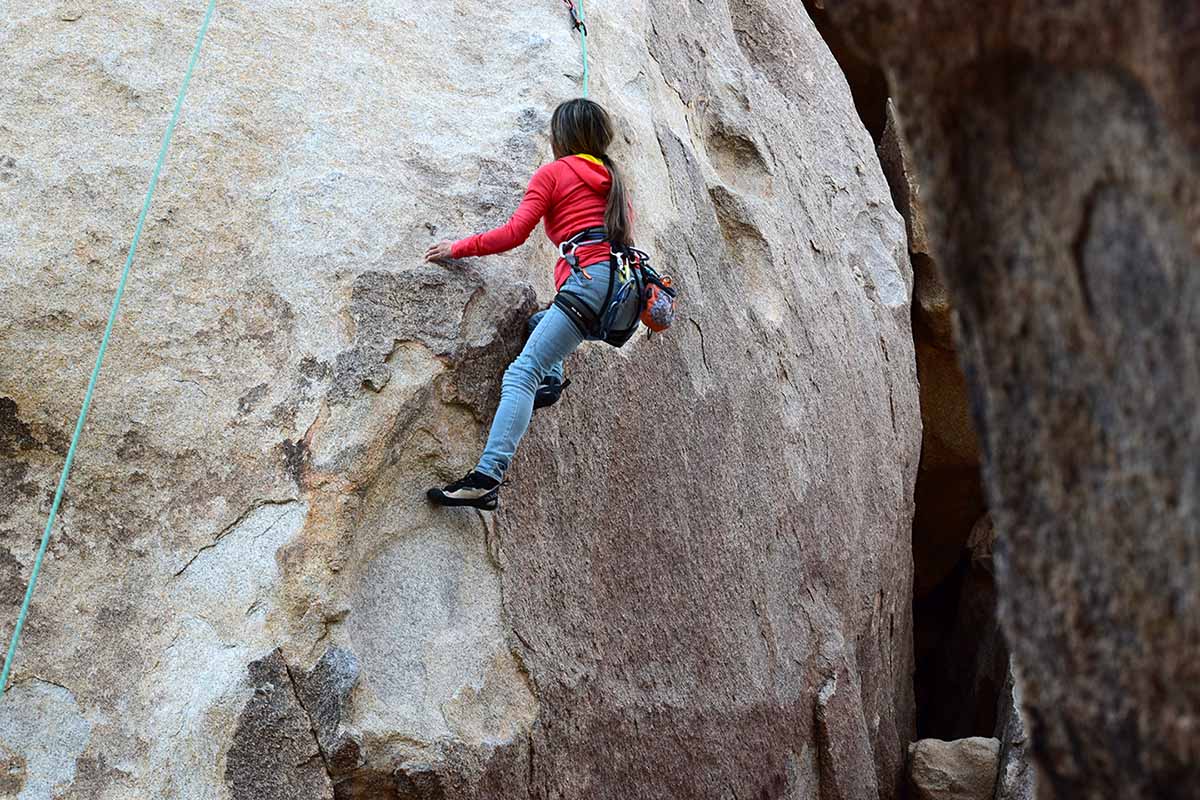 ---
---
As I make my way to the top, I can feel the air turning cool and crisp. It's late afternoon and the desert temp is already starting to dip. It's amazing how, in the desert, from noon to midnight, the temperature can drop 30-plus degrees Fahrenheit (14-plus degrees Celsius).
For my friend, who's scaled Yosemite's El Capitan, Kenya's Kilimanjaro and the icy slopes of Alaska's Denali, Joshua Tree is a total walk in the park. For me, it is just the right amount of challenging fun I was hoping for.
Plus, it's a gorgeous day. The park is serene. And its bulbous rocks, and fanciful trees are a joy to see from below and from above, as always.
---
Meet the Author
Monica Mo is an environmental scientist and rock climbing enthusiast who's been scaling mountains and takin' names for over 10 years.
---
---